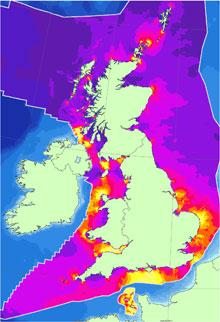 The article in
Thursday's Guardian on underwater turbines
makes for very interesting reading.
We should be the automatic choice for the location of any test turbines; just look at the sea colours in the picture - the deeper the colour the better the resource.
But, without a grid connection, we aren't going to be in the running for this.
The prospect with one of the onshore
windfarms
is to
get
that grid connection, and then to be able to exploit the connection for other alternatives which could mean that onshore wind then itself becomes an obsolete technology.
That prospect is around the corner - and is an aspiration of the Scottish Government - and we must make sure that the wave resource of the west coast is used to benefit the entire community.